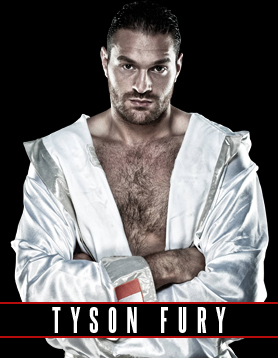 Fighter details
Name:
Tyson Fury
Date of Birth:
12/08/1988
Height:
6'9"
Style:
Orthodox
Birthplace:
Manchester
Home Town:
Manchester
Country:
England
Division:
Heavyweight
Trainer
Peter Fury
Nobody in the heavyweight division excites and splits opinion quite like the enigmatic world heavyweight champion Tyson Fury. For years now he has been a shining beacon in a moribund weight-class and his performances, both inside and outside the ring, have set him apart from his peers. He's entertaining, he's imposing, he's charismatic, he's unpredictable and he can really fight. And sing.
Unbeaten in 25 professional contests, Fury is the reigning linear world heavyweight champion – WBA, WBO, IBF, IBO and The Ring magazine titleholder – and has won British and Commonwealth heavyweight titles, as well as English and Irish belts. He has, therefore, dominated the division in this country for a number of years and now taken over the world scene, too. He's universally-recognised as the number one.
Of course, the reason for his success has something to do with the fact Fury stands at a gargantuan 6'9 and typically weighs between 250 and 260 pounds. A modern day heavyweight in every sense of the word, the Lancastrian combines these whopping dimensions with the speed, work-rate and fitness of a middleweight. He punches when most fighters rest or clinch and is able to throw combinations seemingly forgotten by most of the current crop of heavyweights. He is, in short, a fight fan's dream.
He turned professional back in December 2008, stopping Bela Gyongyosi inside a round on his debut, and went on to win all of his first seven fights by knockout. In fight number eight, though, he took an ambitious step-up in class against the seasoned John McDermott in an English title fight. It was a tough ask on paper, and an even tougher one in reality.
Nevertheless, despite a hard-fought contest, Fury, then a raw novice, gutted out the victory and won the fight on points. In doing so, he landed his first professional title. It would be the first of many.
What's more, a year after he beat McDermott by decision, Fury decided to fight him again in June 2010 and this time left no doubt as to who was the superior fighter. Testament to his rapid rate of improvement, Fury dominated the bout from the get-go before eventually stopping McDermott in round nine.
After that, Tyson scored decent wins against unbeaten fighters Rich Power and Marcelo Luiz Nascimento, outpointing the former and stopping the latter, and then stepped up again to fight Dereck Chisora for the British and Commonwealth heavyweight titles in July 2011.
Highly-anticipated at the time and something of a grudge match, Fury and Chisora sold their rivalry with aplomb and, by the time the fight came around, some 3.2 million viewers tuned in to watch the heavyweight grudge match live on Channel 5. It remains the most-watched British boxing event for some time.
Still, when the talking stopped and the punching started, Fury proved himself a notch above Chisora, outboxing him through most of the twelve rounds they shared and hurting him on more than one occasion. His range and sense of timing was just too much for 'Del Boy' that night. Tyson Fury was the new British and Commonwealth heavyweight champion.
Never one to rest on his laurels, though, Fury maintained his good form and stopped each of his next four opponents. He dusted off Nicolai Firtha in five rounds, Nevin Pajkic in three – despite being dropped himself for the first time as a pro – and both Martin Rogan and Vinny Maddalone also went in five rounds apiece. At times, it was almost too easy for Fury. So much so, he fought the entire fight with Rogan while southpaw.
But the competition stepped up again in December 2012, when Tyson met the durable and skilful American Kevin Johnson at the Odyssey Arena in Belfast. This would, in theory, be trickier than his previous fights and it was expected to go long. Johnson was rarely hurt in fights, let alone stopped.
However, though Fury would have to go the full twelve rounds for the second time in his career, he boxed with a maturity and poise that belied his age and won pretty much every round against Johnson. It was a commanding, clinical performance and onlookers now saw him as more than just a thrill-a-minute giant. He could box, too.
He also possesses much in the way of heart and guts, as was demonstrated during his April 2013 classic with Steve Cunningham in Madison Square Garden, New York. That night Fury, making his American debut on NBC, was floored heavily by a mammoth right hand in the third round, only to turn the tables on his Philadelphian foe in round seven, forcing the stoppage at the 2.55 mark following a vicious barrage of punches. It was arguably the most exciting heavyweight tussle for some time. Both men emerged from it with credit. Fury remained unbeaten and on the cusp of world heavyweight title glory.
In November 2015, Fury, a considerable underdog, ventured to Dusseldorf, Germany to face Wladimir Klitschko, unbeaten in eleven years, for the linear world heavyweight championship. What followed would shake up the division and change the history of the sport, as Fury, relaxed and totally at ease with performing in front of 55,000 fans at the ESPRIT arena, comfortably outboxed Klitschko for the majority of the twelve rounds they shared. In doing so, he was crowned the new WBA, WBO, IBF, IBO and The Ring magazine world heavyweight champion. He also fulfilled a promise he'd made when he was just 12 years of age.
Follow Tyson Fury