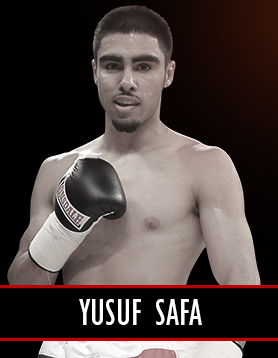 Fighter details
Name:
Yusuf Safa
Nickname
Yut
Date of Birth:
11/02/1994
Height:
5'5"
Style:
Orthodox
Birthplace:
Bexleyheath
Home Town:
Kent
Country:
England
Division:
Super Featherweight
Trainer
Lee Wilkins
Talented super-bantamweight Yusuf Safa is unbeaten in four professional fights and has barely put a foot wrong so far. A pro since May 2014, he has quickly established himself as one of the standout young talents in Great Britain.
Now 21 years of age, Safa was originally born in Kabul, Afghanistan and moved to Acton, West London with his parents in 1999. He was five at the time.
At the age of eleven, Safa and his parents moved to South-East London, and a year later he began boxing at Eltham ABC.
"At the beginning I would watch a lot of 'Prince' Naseem Hamed fights," he said. "Then, once I found my style, I watched a lot of Mexican fighters and Roberto Duran and Manny Pacquiao.
"As for my own style, I can fight and I can box and I can do both at the same time. Movement-wise, I'm a slick mover with lots of speed and a good defence. I can punch hard, too."
It's a style that has got a lot of people in the boxing trade very excited. Perhaps his biggest fan is his promoter, Mick Hennessy, who recently labelled him "special".
"Expectations are high, so of course there's going to be pressure," said Safa. "But, when I feel there's pressure on me, I always train harder. If people speak highly of you, you don't want to let them down. You don't want to look like a fool. That's one thing I'm afraid of. And it's what pushes me to train hard and get better each day."
Follow Yusuf Safa