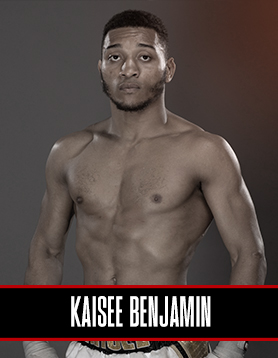 Fighter details
Name:
Kaisee Benjamin
Date of Birth:
19/07/2021
Height:
5'8"
Style:
Orthodox
Birthplace:
Birmingham
Home Town:
Birmingham
Country:
United Kingdom
Division:
Welterweight
A slick welterweight with power in both hands, Kaisee Benjamin has risen through the British ranks the hard way, and developed a reputation for upsetting the odds by routinely beating undefeated fighters.
Along the way he has won the Midlands Area Welterweight on two occasions, and is now focusing his efforts on higher accolades.
After fighting twice on Mick Hennessy's shows, it was announced in June 2021 that the talented welterweight had signed a long-term promotional deal with Hennessy Sports. The signing came off the back of his career best win over rugged Scotsman Martin Harkin, where Benjamin heavily dropped Harkin with a searing right hook to the ribs in the final seconds of the seventh round that sent him to one knee, but no count was given (Harkin thereafter remained on his stool and couldn't continue).
Renowned for his silky skills and boxing ability, Benjamin knows that he can outbox his opponents easily, but his manager Jon Pegg and trainer Louie Counihan have been heavily stressing on him the need to inject more spitefulness in his punches and start knocking opponents out.
Those words have indeed sunk in, as he aims to make an impression in the coming fights.
"It's fantastic to sign a promotional deal with Mick and to finally graduate from the small hall shows to now featuring on the big arena shows. It's a big step up for me and means more terrestrial TV exposure on Channel 5, but I'm ready to impress and the next step for me is challenging for the British title. I want that beautiful Lonsdale belt around my waist"