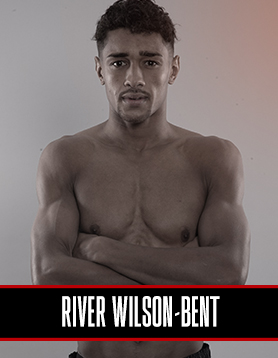 Fighter details
Name:
River Wilson-Bent
Date of Birth:
15/01/1994
Height:
5'2"
Style:
Orthodox
Birthplace:
Coventry
Home Town:
Coventry
Country:
United Kingdom
Division:
Middleweight
One of British boxing's most exciting and hard-hitting talents, River Wilson-Bent currently stands as the Midlands Area Middleweight Champion.
Standing at 6ft 2 inches, the puncher from Coventry is hugely popular in his home city and has recently thrilled his audiences with eye-catching knockout victories.
He first made his talents known when he picked up the Midlands Area Middleweight title with a sensational one-punch knockout over fellow undefeated fighter, Troy Coleman. This was then followed by his career-best performance against the gutsy George Farrell, whereby the Derby man was stopped by a barrage of vicious punches in the 7th round.
These exploits were enough to convince Mick Hennessy to sign River to a long-term promotional deal in June 2021.
"Short term, my goal is to fight for the English title and then work my way up the domestic rankings with my opponents and experience improving each time and then I know I'll be ready to fight for the British title.  Longer term, I want the World title and to be called a World Champion, that's my dream.  With Mick's backing the possibilities are endless." 
Remarkably, Bent holds down his day job as a roofer alongside his boxing training and is a working class hero to his large and loyal followers' who turn out in their droves to see him in action.
He could have sold hundreds of tickets over his allotted allocation for the Farrell fight, but was limited due to Government Covid-19 regulations and is hopeful that further restrictions will be lifted shortly so all his fans can get to watch him again.
Bent added, "My fans are absolutely crazy, it's a real great feeling knowing that you're coming out into the arena with your fanbase cheering you on, it really spurs me on to victory,"