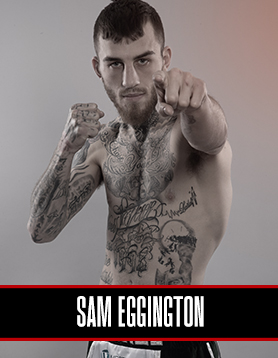 Fighter details
Name:
Sam Eggington
Nickname
The Savage
Date of Birth:
15/10/1993
Height:
5′ 11″
Style:
Orthodox
Birthplace:
Smethwick
Country:
United Kingdom
Division:
Light Middleweight
Still young in age, Sam 'The Savage' Eggington has had a remarkable career where he's won a wealth of titles including British, Commonwealth, European and International. The working class warrior is a real fight fans favourite and has faced anyone and everyone put in front of him, regardless of being in the home or away corner on these shores or abroad.  Whilst being on the end of wrong decisions, he's also caused big upsets by defeating the home fighter, all of which has forged a steely determination to become a World champion.
In recent years, key victories have seen him end the career of former Two-Time World Champion Paulie Malignaggi with a devastating eighth round KO in March 2017. This was followed by a tenth round KO of Ceferino Rodriquez in May 2017 to capture the European title. A destruction of local hero Orlando Fiordgiglio inside two rounds away from home in Tuscany, Italy in November 2019, then led to 2020's Fight of the Year against Ted Cheeseman. Although he lost a close and highly debated points decision, the fight is remembered its epic final round.
In recent times Eggington has featured on Hennessy Sports shows and has immediately raised his profile to the mainstream audience through his exposure on free-to-air Channel 5. A sixth round blow-out of former World title challenger Ashley Theophane, and a clinical performance to shut out former world champion, Carlos Molina, has demonstrated Eggington's improving all-round boxing ability.
And then in September of 2021, his fine run of form led to a breath-taking war of attrition against France's Bilel Jkitou. 12 rounds of pulsating action saw Eggington emerge victorious in another Fight of the year contender (for two years running). Regarded by many as the most exciting fighter in Briatin, The Savage continues to search for the only accolade missing from his grasp – the World Title.
Follow Sam Eggington