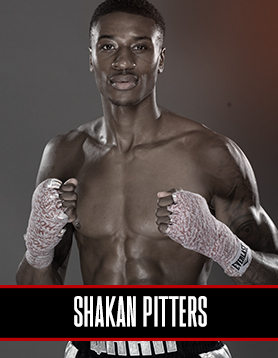 Fighter details
Name:
Shakan Pitters
Date of Birth:
31/07/1989
Height:
6′ 6″
Style:
Orthadox
Home Town:
Birmingham
Country:
United Kingdom
Division:
Light Heavyweight
At a towering 6' 6", 'Big Shak' stands, literally, head and shoulders above his 175lb rivals and combined with his long reach, it comes as no surprise that his idol is the legendary seven-time and five-weight World Champion Thomas 'The Hitman' Hearns who he shares physical similarities with.
The all-action box-puncher possesses a solid and accurate left jab, knockout power in both hands and fast footwork, combined with his fighting heart and pride and a relentless desire to become a World Champion.
Pitters' natural athleticism was evident at an early age when he competed to a high level boxing in the juniors, but he was also a youth trainee footballer at West Bromwich Albion during his teenage years until he was released and then returned to boxing and pursued a career with his fists in the pros which has proved to be a dynamite choice.
Boxing also runs in the family blood with his father Colin, a professional middleweight in the early 1990s who once fought future WBC World Champion Richie Woodhall and top pros Steve Foster, Neville Brown and Adrian Dodson, plus his uncle Rob was also a top light-middleweight prospect.
The Birmingham hot shot turned professional in March 2017 and first came to public attention when he breezed through the Ultimate Boxxer 2 tournament in November 2018, winning three fights in one night to claim the top prize. He then captured his first professional title when he defeated Dec Spelman in a thrilling 10-round war to lift the English crown and close a successful 2019.
Currently Pitters trains at Birmingham's renowned factory of champions, the Eastside Gym in Bordesley Green, alongside IBF International Welterweight Champion Sam Eggington, and is managed by Jon Pegg and trained by Paul "Soggy' Counihan.
Follow Shakan Pitters