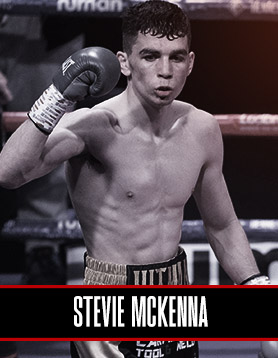 Fighter details
Name:
Stevie McKenna
Nickname
The Hitman
Date of Birth:
15/02/1997
Height:
6′ 0″
Style:
Orthodox
Home Town:
Monaghan
Country:
Ireland
Division:
Light Welterweight
As an amateur McKenna's credentials are impeccable. He represented Ireland at International level under the Irish Boxing Association with 155 fight under his belt. Incredibly, he won the Irish Under 18 youth title, Commonwealth Youth Gold in Samoa and was crowned Irish Elite Senior Champion all in the same year announcing him as a major young star in Irish boxing.
Moving to Los Angeles in 2018 to train under the legendary Freddie Roach at the Wild Card Gym, McKenna has gained invaluable experience sparring with some of the world's best in Vasily Lomachenko, plus top fighters Sergey Lipinets, Jose Zepeda, Hikori Okada, Antonio Orozco, Javier Molina, Lee Selby and Ryan Garcia.
Talent runs through the McKenna family, with his brothers Aaron – an unbeaten super-welterweight prospect who fights alongside Stevie on the Eggington-Theophane undercard, courtesy of his promoter Golden Boy Promotions – and now retired former amateur star Gary.
With his future secure under the promotional guidance of Hennessy, McKenna will also have the continued valuable support of his father and co-trainer Fergal and his manager Ken Sheer of Sheer Sports as he continues to develop towards championship honours.
Follow Stevie McKenna