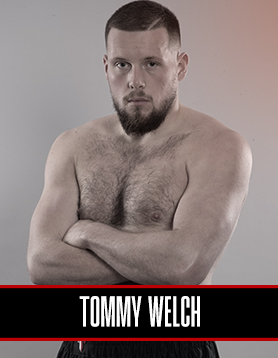 Fighter details
Name:
Tommy Welch
Date of Birth:
26/01/1995
Height:
6' 4"
Style:
Orthodox
Birthplace:
Shoreham
Home Town:
Brighton
Country:
United Kingdom
Division:
Heavyweight
Rising Brighton heavyweight destroyer Tommy Welch believes his genetics, coupled with an insatiable work ethic, will allow him to extend his family's formidable fighting legacy.
Dad Scott, the original 'Brighton Rock', captured British and Commonwealth heavyweight titles and lasted the full course in a bold WBO world title challenge to Henry Akinwande in the 1990s and tenacious Tommy, a multiple national champion and England rep as an amateur, hopes to replicate.
"Today Dad guides, trains, manages, does everything" says the Shoreham-born fighter who has triumphed in all of his fights since debuting in December 2020.
"He has taught me everything he knew plus what he didn't know but has learned since. I was born with his big heart and big balls, his natural aggression and skills.
Well aware of his father's achievements and reputation in boxing, it was only a matter of time before he would be bitten by the boxing bug.
"From the age of eight onwards, I was always happy to spar in the back garden and, by age 11, I was sparring grown men. I was always a big kid, I really liked fighting, just didn't enjoy the other aspects of boxing training. Initially I found my feet in rugby, a very tough sport, lots of fighting on and off the pitch and I enjoyed the thrill of that. I was a temperamental boy, an angry kid with a terrible temper. Once I saw a red rag, I'd fight as hard as I could."
Tommy is also co-coached by ex-Marine Ben Pringle at the same Brighton and Hove ABC gym where his father broke sweat.
"My aim is to slowly, slowly start moving up to six, eight round fights against tougher opposition before gratefully accepting whatever opportunities may come my way. The goal is to become a respected man through boxing, hopefully with a lot of money and a few belts for the cabinet. I want the best career I can possibly have for myself."