Buy The PPV > > https://www.youtube.com/watch?v=PiJYHNRcTkI
Hennessy Sports today announced that the YouTube broadcast of The WBO World Heavyweight Championship between Joseph Parker and Hughie Fury will be available in 23 countries, with more to be announced.
Parker v Fury headlines an action-packed card at the Manchester Arena on Saturday 23rd September, exclusively live on YouTube (www.youtube.com/parkerfury) with a portion of the undercard available for free.
A number of key territories will show the big heavyweight showdown exclusively live on YouTube, including America, Canada and Mexico, plus Argentina, Hong Kong and Italy in a fight that has gone global with its appeal.
The full list of countries confirmed so far are (go to www.youtube.com/parkerfury for further details):
Argentina
Argentina
Austria
Bosnia
Canada
Cost Rica
Ecuador
Germany
Spain
Greece
Hong Kong
Hungary
Ireland
Iceland
Italy
Netherlands
South Korea
Mexico
Porgtual
Romania
Slovakia
Taiwan
US
UK
World TV Broadcasters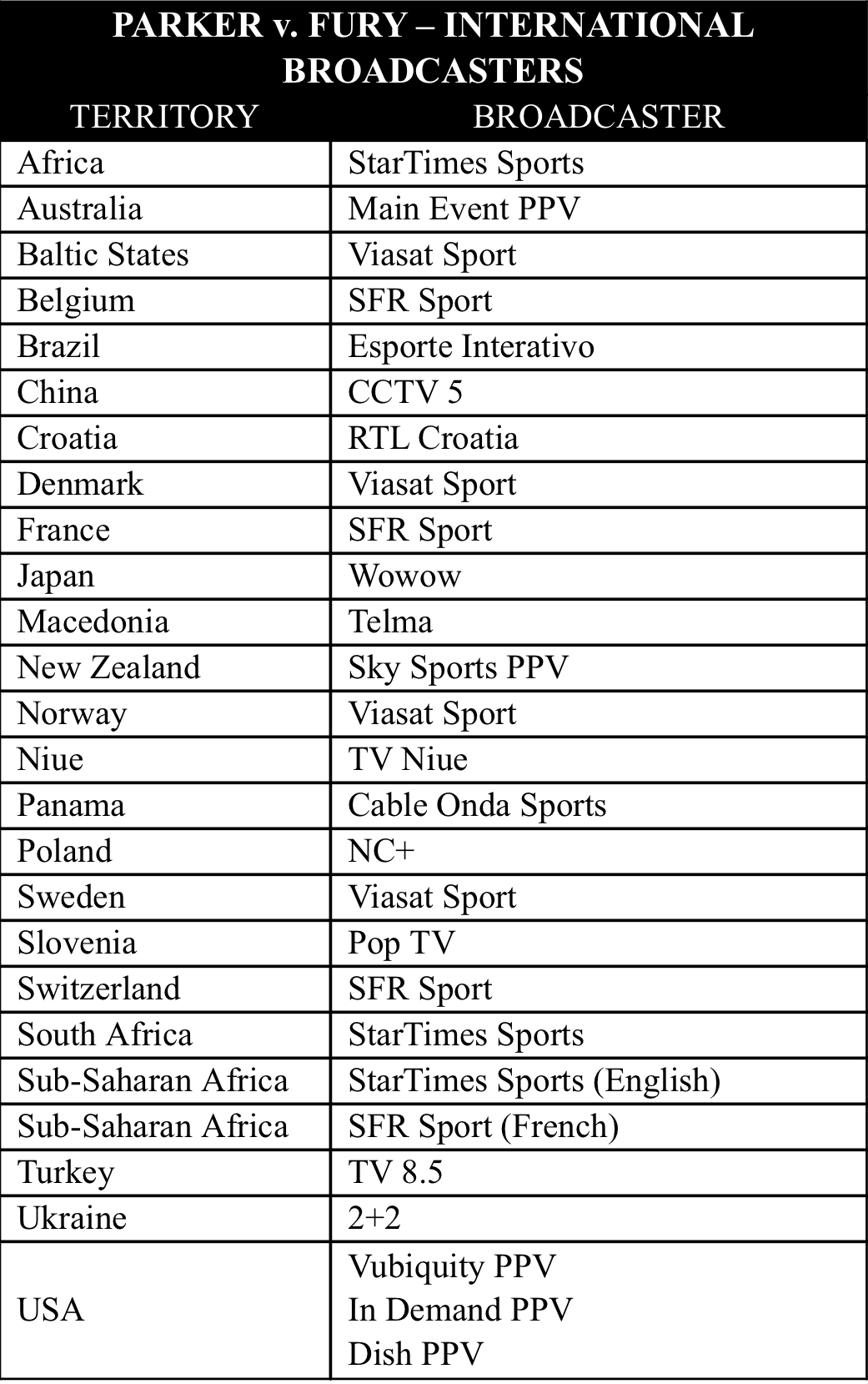 Hennessy Sports' groundbreaking and innovative partnership with YouTube (which is the world's biggest provider of online content) offers an exciting new way of watching boxing that will reach to a global audience; bring in younger viewers and attract a new generation of boxing fans.
Promoter Mick Hennessy, CEO of Hennessy Sports, said, "When we made the decision to partner with YouTube in this pioneering deal I knew that this fight had all the ingredients that would make it appeal globally. We are in a world of increasingly "anytime, anywhere" viewing of video content and with YouTube's unparalleled reach to over 1.5 billion viewers globally this fight will really capture the world's attention."
***PROMOTIONAL VIDEO***
Watch the new YouTube fight promo here: https://www.youtube.com/watch?v=KF0fqPBNCjI
 
You can embed the promo to your page with the following embed code: 
 
***FREE LIVE UNDERCARD TO EMBED***
In the build-up to the main event Parker v Fury, Hennessy Sports and YouTube have made the action-packed undercard available and free-to-watch, simply embed the following code to your page:
URL: https://www.youtube.com/watch?v=y6sPF2HABDU
Embed code: 
 
QUESTIONS AND ANSWERS
 
Where will the fight night be shown? 
The whole show will be available on YouTube.com/ParkerFury on September 23rd 2017 from 6pm. Users should head to youtube.com/ParkerFury today and subscribe for free so as not to miss out in the pre-fight build up. On the night, there will a portion of the undercard free-to-view in the event build-up before switching over to the main event and the rest of the card on PPV.
You can watch this event anywhere online or on your smart TV, game console, PC, Mac, mobile, tablet and more. https://www.youtube.com/watch?v=PiJYHNRcTkI
 
How can fans buy the fight? 
Fans around the World can as of now buy the fight in three quick and simple steps 
How to purchase videos for desktop and laptop users here
 
How to purchase video for iPhone, iPad, iOS users here
For Smart TVs & games consoles:
To watch this event on your SmartTV or games console, buy it on your desktop computer, phone or tablet then you will be able to watch it on your TV or console by logging into the same Google/YouTube account.
 
Users will have to sign up for a YouTube / Google account, if they don't have one already, which is easily done through http://accounts.google.com/signup
 
Once signed in, fans should head to http://www.youtube.com/ParkerFury where they will see a link to the PPV live stream. Click that video.
 
Fans will be prompted to pay for the event – which is carried out through Google Payments. Simply add your payment details and purchase the fight. This can be viewed on any one device which the user is signed into.
 
Will there be support available for fans?
Google will have a support team available for any issues on the night, options for support are listed onhttp://www.youtube.com/purchases once the purchase has been made."