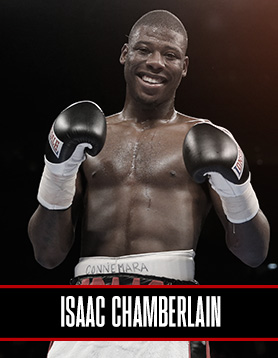 Fighter details
Name:
Isaac Chamberlain
Date of Birth:
03/03/1994
Height:
6'2"
Style:
Orthadox
Birthplace:
London
Home Town:
Brixton
Country:
United Kingdom
Division:
Cruiserweight
Trainer
Jorge Rubio
Isaac Chamberlain turned professional in January 2015 and captured the Southern Area title in a memorable points victory over Wadi Camacho despite suffering a dislocated shoulder injury in the third round.
His sole loss was against rival Lawrence Okolie on points for the WBA Continental title, but he rebounded with a victory over Luke Watkins in his last fight in October 2018.
Isaac Chamberlain has since signed a long-term promotional agreement with promoter Mick Hennessy. The Brixton fighter, who had long been out of action for 16 months, said:
"The time out of the ring has been a period of immense frustration for me but it has been a real character building exercise also.
"I like to look at the positives and going through this has strengthened my will and determination. I believe that I will be more dangerous and savage when I make my return to the ring.
"I'm so happy to have signed this long term promotional deal with Mick Hennessy and he is a person who I believe is passionate about his fighters and he fights for them. He's a real solid person to have on your team and I need someone like him that to push me to where I need be."
Follow Isaac Chamberlain