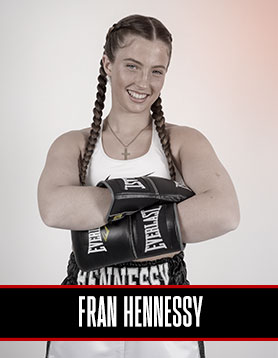 Fighter details
Name:
Fran Hennessy
Date of Birth:
20/10/2004
Height:
5'3"
Style:
Orthodox
Home Town:
Sevenoaks
County
Kent
Division:
Bantamweight
Entering the professional ranks following an accomplished amateur career which saw her win two national championships, the Women's Winter Box Cup and Sweden's Golden Girls Box Cup, the talented 18-year-old hopes to follow in the world championship footsteps of stablemates Savannah Marshall and other legendary fighters her father has managed and promoted
"I'm more than ready, I'm ready to shake up boxing. My style is very unique. I like to move and groove. I'm a bit of a show-woman. You're going to see some excitement for sure."
"I was a two-time national champion, I went out to the Golden Girl tournament [in Sweden] and I won the Best Boxer out of 360 girls. I also won the Women's Winter Box Cup."
She's been immersed in boxing from a young age, she remembers sparring her brother when she was just four years old. As well as being inspired by legends from boxing history, Savannah Marshall, the undisputed super-middleweight champion, has also been a significant influence on her.
"Since I was younger I loved Prince Naseem Hamed and Sugar Ray Leonard. I loved that excitement and showmanship," 
"I saw the way my dad and Peter Fury were looking after Savannah and I thought this is something I can do and go to the top at and it really inspired me, seeing Savannah. I always have looked up to her. Savannah's such a massive role model as well because not only can she fight in the ring, she's a great person. She's very down to earth,"
"Women's boxing has got massive recently. I was at the Savannah Marshall-Claressa Shields fight and obviously, as a young girl who loves boxing standing in that arena, it was amazing. I never thought I'd see the day when an arena would be packed out like that with two women fighting.
"It's so exciting for all us young girls who are coming on up."